Olive Variety Information
 
 
The following information on olive varieties is compiled from international literature and personal experience. The varieties listed are mainly intended for oil production and are available in Australia. Varieties are listed in alphabetical order. Click on images to enlarge.
 
 
Arbequina
 
Country of origin: Spain (Catalonia, Aragon, Andalusia)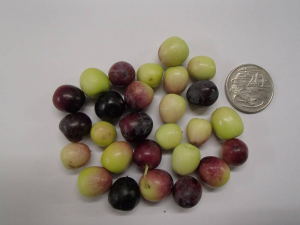 Tree vigour: Weak to medium
Growth habit: Spreading
Start to bearing: 3-4 years
Pollination: Self compatible
Fruit weight: Low (1-2 g)
Fruit shape: Round
Ease of harvest: Difficult
Oil content: High (18-22 %)
Best ripeness for oil: 30% green 70% black
 
Additional comments: Harvesting is time consuming due to small fruit size. Produces a high quality oil of mild character which makes it good for blending with robust oils. Trees remain small so variety is suitable for dense plantings.
 
 
Barnea
 
Country of origin: Israel 

Tree vigour: Strong
Growth habit: Erect
Start to bearing: 3 years
Pollination: Partly self compatible
Fruit weight: Medium to high (3-6 g)
Fruit shape: Long with point
Ease of harvest: Easy
Oil content: Medium (15-18 %)
Best ripeness for oil: 60 % green 40 % black
 
Additional comments: This variety has a very fast growth rate and starts bearing early. The shape and growth of the tree is very upright and therefore is suitable for dense plantings. Produces a mild oil which is good for blending with more robust oils.
 
 
Coratina
 
Country of origin: Italy (Puglia)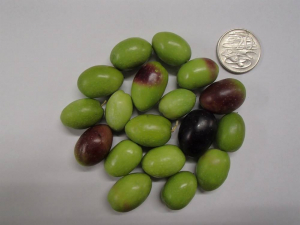 Tree vigour: Medium
Growth habit: Spreading
Start to bearing: 3-4 years
Pollination: Partly self compatible
Fruit weight: High (4-6 g) (fruit can vary a lot in size)
Fruit shape: Oval
Ease of harvest: Easy
Oil content: High (18-22 %)
Best ripeness for oil: 70 % green 30 % black
 
Additional comments: Produces a very robust oil and therefore is best blended with a mild variety oil such as Barnea or Verdale. The oil is highly stable and will keep for a long time (at least 2 years under good storage conditions). Can be used for green olives in brine.
 
 
Frantoio
 
Country of origin: Italy (Central Italy; Tuscany, Umbria)

Tree vigour: Medium
Growth habit: Drooping
Start to bearing: 4-5 years
Pollination: Self compatible
Fruit weight: Medium (2-4 g)
Fruit shape: Oval
Ease of harvest: Medium
Oil content: High (18-22 %)
Best ripeness for oil: 60 % green 40 % black
 
Additional comments: This variety usually takes 1 or 2 years longer to start bearing compared with most other varieties. Once bearing starts crops are generally high. Oil is of high quality and generally mild to medium in character. Oil is good on its own or can be blended.
 
 
Kalamata
 
Country of origin: Greece (Messinia, Lakonia, Lamia)

Tree vigour: Medium to strong
Growth habit: Erect to spreading
Start to bearing: 4-5 years
Pollination: Partly self compatible
Fruit weight: High (4-6 g)
Fruit shape: Long with point
Ease of harvest: Easy
Oil content: Medium to high (15-22 %)
Best ripeness for oil: 40% green 60% black
 
Additional comments: Considered dual purpose but mainly grown for Greek-style black olives. Oil is of high quality and medium to robust in character. Trees are always grafted and therefore are more expensive to buy. It should be noted that any grafted olive tree should have the graft planted below ground. Highly recommended as a dual purpose variety particularly for the home garden where space is limited.
 
 
Koroneiki
 
Country of origin: Greece (Peloponnese, Zakinthos, Crete, Samos)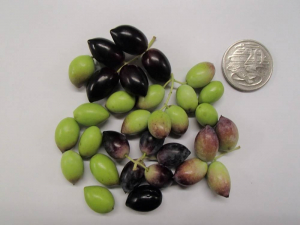 Tree vigour: Medium to strong
Growth habit: Spreading
Start to bearing: 4 years
Pollination: Self compatible
Fruit weight: Low (less than 2 g)
Fruit shape: Oval with point
Ease of harvest: Difficult
Oil content: High (18-22 %)
Best ripeness for oil: 60 % green 40 % black
 
Additional comments: This variety accounts for 60 % of Greece's olive growing acreage. Trees are strong and sturdy so are suitable for windy coastal or exposed areas. Harvesting is time consuming due to small fruit size. Produces a high quality well balanced oil of medium character. Oil is very good on its own or can be blended. This variety makes a good pollinator and has been shown to increase the fruit set of many varieties.
 
 
Leccino
 
Country of origin: Italy (Central Italy; Tuscany, Umbria)

Tree vigour: Medium to strong
Growth habit: Erect to spreading
Start to bearing: 4 years
Pollination: Self incompatible (pollinator recommended)
Fruit weight: Medium (3-4 g)
Fruit shape: Oval
Ease of harvest: Easy to medium
Oil content: Medium (15-18 %)
Best ripeness for oil: 100 % black
 
Additional comments: The skin of this olive turns black quickly, early in the season long before the maximum oil content has been reached. Olives should therefore be harvested 2 to 4 weeks after the olives have turned completely black. It is also important that olives are not left to over ripen since oil extraction can become difficult. Oil character is variable, ranging from mild to robust. Recommended pollinators are Frantoio or Pendolino, however if three or more other varieties are nearby specific pollinators are generally not needed. Can be used for black olives in brine.
 
 
Manzanillo (Manzanilla de Sevilla)
 
Country of origin: Spain (Province of Murcia)

Tree vigour: Weak to medium
Growth habit: Spreading
Start to bearing: 3-4 years
Pollination: Self compatible to partly self compatible
Fruit weight: High (4-6 g)
Fruit shape: Round
Ease of harvest: Easy
Oil content: low to medium (highly variable 10-20%)
Best ripeness for oil: 70% green 30% black
 
Additional comments: Internationally recognised as a table olive variety, however is widely planted for oil production in Australia. Oil extraction from this variety can be difficult, slow and sometimes impossible, particularly if the olives are too ripe and/or hold to much water. It is recommended that these olives are harvested on the greener side or are processed with a true oil variety. Some olive processors charge a higher rate to process this variety. Oil is of high quality and generally robust in character. Trees tend to produce lots of suckers at the base of the trunk which need to be removed.
 
 
Nevadillo Blanco
 
Country of origin: Spain
Tree vigour: Medium to strong
Growth habit: Spreading
Start to bearing: 3-4 years
Pollination: Self compatible
Fruit weight: Medium (3-4 g)
Fruit shape: Oval
Ease of harvest: Easy to medium
Oil content: High (18-22 %)
Best ripeness for oil: 30% green 70% black
 
Additional comments: Fruiting of this variety can be highly variable. Produces lots of flowers but fruit set can be poor. Oil is of high quality and generally robust in character. Oil is distinctive with fruity tomato characters.
 
 
Pendolino
 
Country of origin: Italy (Central Italy; Tuscany, Umbria)

Tree vigour: Medium
Growth habit: Drooping
Start to bearing: 3-4 years
Pollination: Self incompatible (pollinator recommended)
Fruit weight: Medium (2-4 g)
Fruit shape: Oval
Ease of harvest: Medium
Oil content: Low (10-15 %)
Best ripeness for oil: 10 % green 90 % black
 
Additional comments: This variety is planted as a pollinator for Leccino and Frantoio. Has an early start to bearing and is highly productive. The tree is highly drooping and dense. Oil is of average quality and generally robust in character.
 
 
Picual
 
Country of origin: Spain (Jaen, Cordoba, Granada)
Tree vigour: Medium
Growth habit: Spreading
Start to bearing: 4 years
Pollination: Self compatible
Fruit weight: Medium to high (3-6 g)
Fruit shape: Oval
Ease of harvest: Easy
Oil content: High (18-22 %)
Best ripeness for oil: 30 % green 70 % black
 
Additional comments: This is the most planted variety in Spain. Produces a very robust oil and therefore is best blended with a mild variety oil such as Barnea or Verdale. The oil is highly stable and will keep for a long time (at least 2 years under good storage conditions).
 
 
Verdale
 
Country of origin: Selected in Australia possibly of French origin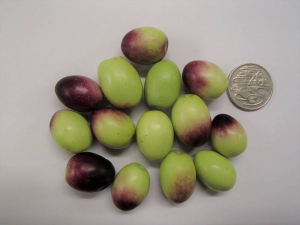 Tree vigour: Strong
Growth habit: Spreading
Start to bearing: 3-4 years
Pollination: Self compatible
Fruit weight: High (4-7 g) (fruit can vary a lot in size)
Fruit shape: Oval
Ease of harvest: Easy
Oil content: Low (8-12 %)
Best ripeness for oil: 80% green 20% black
 
Additional comments: This variety has a low oil content so it not really an oil variety. Trees are very productive and olives tend to stay green on the tree for a long time. Produces vibrant green coloured oil, of very mild character. Good for blending with robust oils. Used to make green pickled olives, however the stone is very large. One of the few varieties of olive available in Australia 20 plus years ago so is very common.
 
 
WA Mission (Olea Mission)
 
This olive variety is a WA selection very similar to Frantoio. Tree and fruiting characteristics are similar, however oil is robust in character.